Vehicle Wraps
Vehicle wraps are a cost-effective way to give your car, truck, van, etc. a facelift or a unique look.  Have you wanted to change the look of your vehicle?  Is your paint color not your style and you want a new paint job but can't afford it?  It's hard to justify the cost of a professional paint job.
Are you a business owner wanting to creating a mobile billboard on your vehicle?  Did you know that vehicle wraps are one of the most effective and efficient forms of out of home advertising? This advertising reaches more consumers at a lower cost per thousand impressions than any other form of advertising. From an ROI standpoint, vehicle wraps have the lowest cost per impression.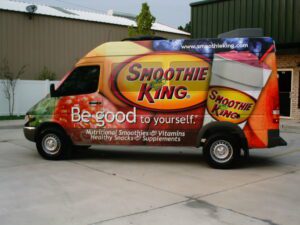 Vehicle Graphics are an incredible way to show off your brand and maximize appearance. With a spotless application to the window, body, or trailer of any vehicle, your brand will effortlessly reach consumers. Take the time that you have invested into your vehicle and make an impression! Vehicle graphic sustain a striking, unique appearance.
With advertising, you never know where your ads are going to land. A newspaper consistently ends up in the recycling bin! On the other hand, you target demographic may not be listening when the local radio station airs your advertisement. A billboard is passed by in a moment, and magazine ads are costly! When your money runs dry, the ad no longer runs. For a cost-effective solution that ensures longevity, look no further. Vehicle graphics maintain round-the-clock advertising at your convenience.
SEI will help increase your brand's visibility to consumers who may have never heard of you before.
Do you operate a restaurant? Own a catering service? Are you a real estate agent looking to increase clientele? The opportunities for exposure are infinite when you apply your brand's name and contact information on your vehicle.
Getting noticed is what marketing is all about! So, who says that you must advertise a business or product to stand out? Whether it is your favorite symbol, a memorial for a loved one, or a fun design that would give your vehicle that extra flair, vehicle graphics are versatile and easy to utilize for even the most small-scale needs.
Regardless of if you know exactly what you want or are uncertain, you don't have to worry about a thing. Our experts at SEI know everything you need to know about style and are here to assist you! During an estimate, our detail-oriented consultants will walk you through all of your possibilities. Helping you find the correct graphics to fit your needs and goals is what we strive to do!
Minor or major, SEI provides proven quality work. Contact us to hear about our large assortment of options for your vehicle graphics!